Arunachal Pre Nyokum Festival Celebrated at Himalayan University
Updated on
2022-04-11 06:15:46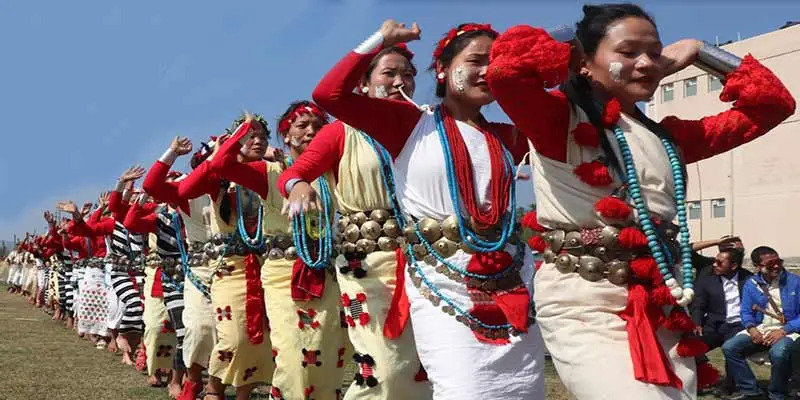 Celebration of 72nd Constitution Day Organized by Arunachal Pradesh State Legal Services Authority in collaboration with Himalayan University. Himalayan University extends its wishes on National Constitution Day 2021.
13 Feb 2019: Students of Himalayan University celebrated 2ndpre-Nyokum Yullufestival at the university campus. On this occasion, MLA of Itanagar Mr. Techi Kaso attended the function and shed light on the significance of this festival. He said that the festival provides us a platform to spread the message of unity and brotherhood and to promote communal harmony among the members of various communities. On this occasion, Arunachal Civil Society chairman Patey Tayum and BJP City President Tarh Soping were present at the programme as guest of honor and special guest respectively. In this programme, several cultural troops of the University performed several traditional dances which mesmerized the huge gathering.
There is a great significance of Nyokum festival in the Nyishi tribe. This festival has a close link with cultivation, which is celebrated by the tribe.The Nyokum goddess, is considered the goddess of prosperity and the people of the Nyishi tribe celebrate this festival to get her blessings so that there may be more and more production of foodgrains in the next harvesting season, that the visit of famine may be warded off, and that drought or flood may not hamper cultivation, nor should any insect or animal destroy plants and crops. The Goddess is invoked so that the human race may be strengthened and regenerated.
Department of Civil Engineering of Himalayan University organized special practical training for students
Department of Civil Engineering of Himalayan University conducted a practical session for civil engineers. It was a new-age practical session for civil engineers that aims to impart industrial exposure and boost their technical knowledge. Thereby, they can be technically proficient in today's highly competent world. Even companies are also looking for versatile and well-trained engineers for their new ventures.
Department of Geography of Himalayan University organized a special practical session on Geographic Information System (GIS)
Dept. of Geography of HU provides interesting and informative practical on GIS to the Geography students and gives HU's students hands-on training opportunities. Over the past 9 years, HU has grown to become one of the leading Universities of Arunachal Pradesh, winning numerous awards from major industry organizations. The latest course curriculum, field trips, and academic surveys all strive to provide a powerful and enriching learning experience to students pursuing higher education with HU.
72nd Constitution DayCelebrated in Collaboration withHimalayan University