Debate on Arunachal and Democracy held by Himalayan University
Updated on
2022-04-11 06:15:29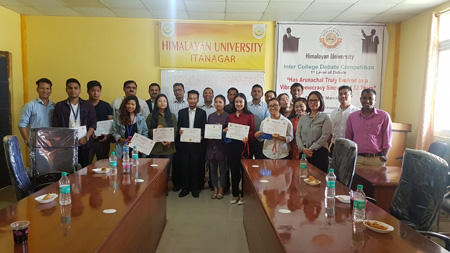 Dr. Mittal further said that we live in the world's largest democracy, and we must safeguard its integrity by holding free and fair elections. Arunachal Pradesh has emerged as a thriving state, with rising urbanization, education levels, and living conditions, according to participants in the motion debate.
Himalayan University hosted a debate on Arunachal Pradesh and Democracy
Itanagar, August 9, 2021: Diana Mum Tamuk and MilloMunya were adjudged the winners of a debate competition conducted on Thursday by Himalayan University on the topic "Has Arunachal Truly Evolved as A Vibrant Democracy Since the Last 32 Years". Twenty-one students participated in the competition. Meanwhile, Omen Pangam and Likha Raja were awarded as the runners-up in the debate.
Throughout the debate, several concerns were raised, and participants expressed their opinions on the issue. "Debate is a sport that sharpens one's analytical, critical, and quick-thinking skills, persuasive speaking skills, note-taking, fast reading, and in-depth research skills," said Registrar of the University Dr. Vivek Mittal.