Awards and Achievements – Himalayan University
Updated on
2022-04-29 05:59:59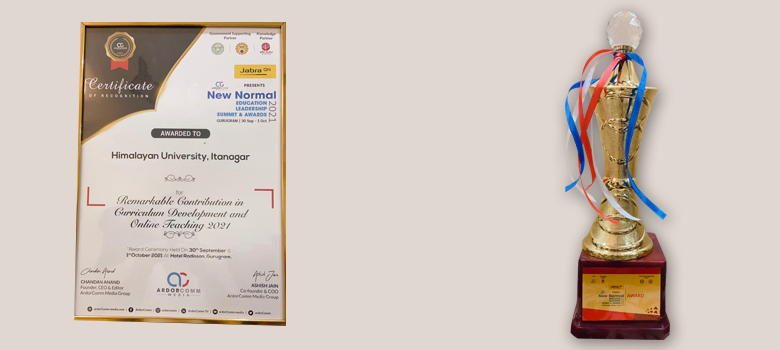 Himalayan University's commitment to drive the country's growth engine has been distinctly recognized once again.
Owing to outstanding academic records and consistent performance over years of imparting education, Himalayan University has been awarded "Remarkable Contribution in Curriculum Development and Online Teaching 2021" by the prestigious ArdorComm Media Group at Hotel Radisson, Gurugram, on 30 September & 1 October 2021.
The state-of-the-art curriculum designed by highly qualified faculties working relentlessly and holding decades of experience stand out on its own, extending unparalleled standards of quality higher education both in domestic as well as global domains.
Moreover, as the workforce of the world is rapidly expanding, the zeal to lead a more productive life, has led the younger generation to avidly look for more diverse career options.
The paradigm shift from generic to unconventional is evident, and exactly where creative methods for online teaching come in.
Even though society is still in the process of accepting the diversion from Classical education, online education has proven to be a good alternative to a large number of the population.
Also, it is impossible not to address how magnanimously beneficial, e-learning proved to be, when the global pandemic surfaced, and the world came to a standstill. Leading life as we knew it had drastically changed and when nobody knew, what lay ahead, online platforms surfaced to carry us through a new age of imparting and receiving education.
In the wake of such new developments happening all around, Himalayan University, has kept pace and made significant contributions to ensure that students are well up-to-date with latest trends, and advancements in industry.